In today's rapidly evolving business landscape, organizations face the challenge of keeping up with customer demands and market changes. Traditional methods and approaches often fall short in delivering products and services at the speed required to stay competitive. That's where agile transformation comes into play – a strategic shift that empowers businesses to adapt, innovate, and thrive in the face of uncertainty.
Agile transformation is not just about embracing a new methodology; it's a mindset shift that drives collaboration, flexibility, communication, and speed in every aspect of your organization. By embarking on this transformative journey, you can unlock a world of possibilities, including enhanced customer satisfaction, accelerated product delivery, and reduced defect rates.
While the path to agile transformation may seem challenging, our blog is here to guide you through every step of the way. Follow us to embark on a transformative journey that will revolutionize the way you develop and deliver projects, ensuring your organization's long-term success in the dynamic marketplace.
What is Agile Methodology?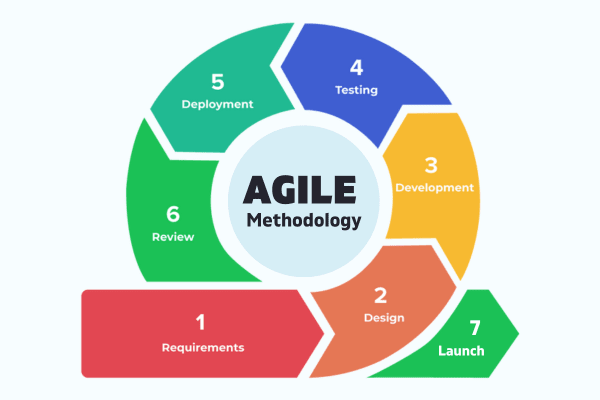 It is a project management framework, where a project is managed by breaking into several phases. This methodology adopts an iterative approach, ensuring active stakeholder engagement and continuous delivery at every stage. Due to its adaptability to change, flexibility, and high level of customer input, it is a popular approach for project management.
What does Agile Transformation mean?
The process of shifting a complete organization to an Agile approach is known as Agile transformation. While many enterprises consider embracing agile, lean, scrum, etc., as transformation, agile transformation is much bigger than this. It is more about creating an environment by embracing innovation, creativity, cutting down layers of management, and employee empowerment.
5 Benefits of Agile Transformation
1. Accelerated Time to Market:
Agile methodologies with shorter iterations enable faster product delivery and increased flexibility. Smaller timeframes allow for focused efforts on specific deliverables and rapid adaptation to changing requirements.
2. Empowered and Self-Organizing Employees:
Agile transformations nurture a healthy organizational culture where employees are more independent, self-organizing, and empowered to take ownership of their work.
3. Enhanced Efficiency and Transparency:
Agile transformations foster closer team collaboration, leading to improved efficiency and transparency in work processes.
4. Elimination of Obstacles:
Agile transformations encourage individuals to seek and offer help from colleagues, creating a supportive environment that helps overcome obstacles effectively.
5. Maximized Return on Investment (ROI):
Embracing agile methodologies enable organizations to claim a higher ROI. By prioritizing customer value, continuous improvement, and strategic work alignment, agile teams optimize project outcomes and deliver exceptional results. This leads to a higher return on investment for the organization's projects and initiatives.
What are the challenges to overcome with Agile Transformation?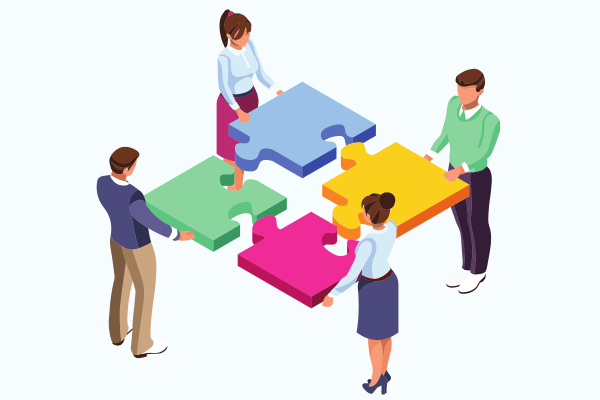 Ability to Change:
Employees who are accustomed to old procedures and processes face one of the most difficulties in agile transformation. To overcome resistance, strong change management tactics, clear communication, and the establishment of a culture of trust and collaboration are required.
Cultural Barriers:
Organizational cultures that prioritize hierarchy, control, and rigid processes may hinder agile adoption. Addressing cultural barriers requires creating an environment of empowerment, transparency, and lifelong learning.
Lack of training and skill gaps:
When compared to traditional ways, agile methodologies necessitate a different skill set and mentality. Lack of training and skill gaps can stymie agile practice implementation. To close these gaps, proper training, coaching, and mentoring are required.
Speed and Quality:
Agile techniques emphasize speedy delivery, but quality criteria must also be met. To strike the correct balance between speed and quality, rigorous testing and quality assurance, practices must be implemented throughout the agile development lifecycle.
Sustainment of the transformation:
Agile transformation is a continuous process and to sustain the transition, it is necessary to follow ongoing assistance, reinforce agile concepts, and cultivate a culture that values agility, cooperation, and adaptability.
5 Steps to a Successful Agile Transformation

1. Establish a Plan:
Define your objectives clearly and communicate them to all stakeholders. Agile transformation is all about getting better results, whether that means increasing revenue, lowering defects, or delivering value at scale.
2. Build a Powerful Team
Provide agile training and coaching to your teams in order to build an agile mindset and equip them with the required skills and practices. Foster a culture of continual improvement by encouraging cooperation and ownership.
3. Embrace the Right Tools and Technologies:
For successful enterprise agility, it is crucial to have robust cross-team communication tools, streamlined time and project management systems, seamless data integration solutions, and transparent fail-safe mechanisms for immediate recovery.
4. Achieve Hands-On Experience
Embrace hands-on governance, adopt an iterative approach to project delivery, establish active communication channels with clients, and invest your efforts in building and sustaining this agile structure. All these will set the foundation for a successful and enduring transition to agility.
5. Drive your progress forward
Once the teams have established discipline and predictability, shift the focus towards organizational improvements. Harness the power of agile tools to measure quantitative metrics and enhance the delivery cycle. With continuous monitoring and iterative enhancements, you can accelerate your organization's growth and achieve greater efficiency in project delivery.
How to maintain the Agile Transformation Momentum Successful?
Agile transformation is a continuous process that promotes fundamental changes in organizations, allowing them to adapt to changing market conditions. Effective Agile methodology training is essential for ensuring effective deployment and increasing business value. It improves customer satisfaction, product quality, and reduces time-to-market. Furthermore, Agile enables businesses to quickly adapt to changing market demands, optimize resources, and drive continuous progress.
At Kleza, we understand the importance of achieving excellence in today's competitive landscape. As a software development and digital marketing firm, our focus is on delivering tangible results. We offer a comprehensive range of solutions designed to keep businesses ahead of the curve. Choose Kleza as your partner in maximizing your potential for success.
Together, let's achieve the power of agility and pave the way for a brighter future. Contact us today at +1 913-800-2728 and experience the difference that Kleza can make for your organization.